Authors and informatics experts, Dr. Dee McGonigle of Chamberlain University and Dr. Kathy Mastrian of Pennsylvania State University and they discussed the importance of educating all healthcare professionals on informatics. Here are the top 5 takeaways from their presentation.
Catch the replay full on our YouTube channel.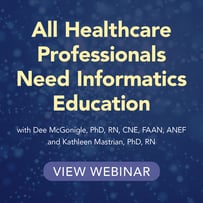 "Thank you ..this was excellent and I have shared it with my faculty."
- Nursing Faculty Webinar Attendee


The Healthcare Professional as Knowledge Worker


"Nurses do not often think of themselves as knowledge workers, but whoever works with data, information generating knowledge as a by-product is a knowledge worker." Dr. Kathy Mastrian




The DIKW Paradigm at the Forefront of Informatics
The data, Information, Knowledge (DIKW) framework is one of the core conceptual frameworks for teaching the practice of informatics. The authors highly praise this framework and incorporate it into their texts.



Personal Health Management for Patients


Informatics helps to educate, connect and engage patients in personal health management. From EHR systems to wearable technologies, patients are taking control of their health and using a variety of tools to do so. This means that nurses and other health professionals too must be knowledgeable about these devices, what they can do as well as how patients are using them to track their health every day.

"We need health professionals to challenge the IT tools they're provided with - such as EHR systems, smart pumps, and smart tools. They must be able to provide guidance on how to improve these products instead of creating the unsafe workarounds" said Dr. Dee McGonigle, Director of Virtual Learning Experiences and Professor of Graduate Nursing, Chamberlain University .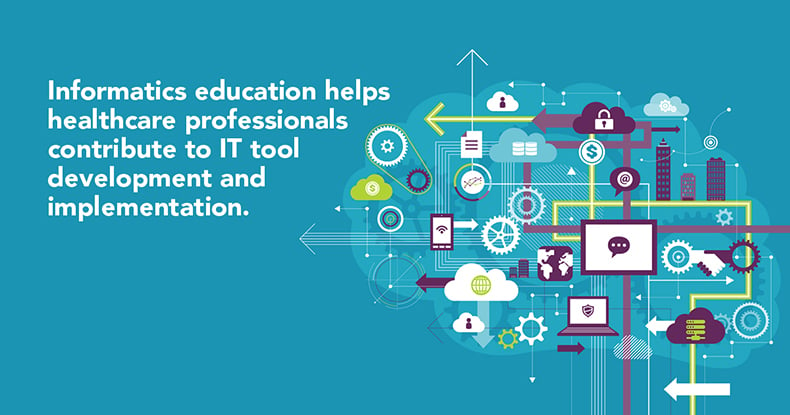 Informatics Education Contributes to IT Tool Development and Implementation




Informatics education helps students build the confidence to have a voice which is especially critical when they enter the workforce. It's incumbent upon nurses and healthcare professionals to be fluent in the systems they're using and voice concerns if they're not meeting clinical needs. Furthermore, their knowledge and expertise are critical to the development and implementation of new tools.
Informatics Supports Patient Safety


We know that hospitals and health organzations alike are constantly taking measures to ensure patient safety and quality improvement. Informatics tools and practices are used to track and analyze safety issues and near-misses in terms of errors.
---
Informatics Resources for your Course
Dr. McGonigle and Dr. Mastrian author two distinct texts on informatics. One is geared to the general health professional while the other is focused on the needs of nursing. Review the resources below to determine which text best suits your course.

Recently published!
Request Review Copy Request Review Copy