Caring for the Vulnerable: Perspectives in Nursing Theory, Practice, and Research, Fifth Edition is a "landmark book that should be read around the world" (Taken from the preface of the Fifth Edition)
The new edition focuses on vulnerable populations and how nurses can care for, develop programs, conduct research, and influence health policy. This is a unique text that caters to all levels of nursing students as well as professionals.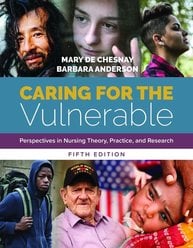 The previous edition garnered a great deal of praise from readers, with commendations including:
"Great textbook for identifying the vulnerable and how to care for this group. Enjoyed this text. Very easy to read." And "Tunes the reader into the needs of under served populations today."
Readers also described the text as "current", "well-written", "clear and concise", with reviewers appreciating and enjoying the "story format".
We anticipate the recently published Fifth Edition will elicit the same level of customer approval. With a total of 31 new chapters focusing on new and emerging research on vulnerable populations, Caring for the Vulnerable: Perspectives in Nursing Theory, Practice, and Research, Fifth Edition presents current and engaging content in the form of real-world cases theories, lessons, and solutions.
In addition, this globally-focused text provides a broad overview of content critical to working with these populations, comprehensive treatment of issues related to vulnerable populations, and boasts an outstanding contributor list all of whom are experts in their field.
New chapters include:
Social Justice in Nursing: A Review of The Literature
Afghan Women Refugees: Application of Intersectionality Feminist Theory
Life Beyond Movement: A Life History of a Male Quadriplegic
The Effects of Gun Trauma on Rural Montana Healthcare Providers
Protecting Vulnerable Populations from Mosquito-Borne Diseases: The Cases of Yellow Fever and Zika
Request a review copy today to see how the new Fifth Edition could be a great addition to your course.