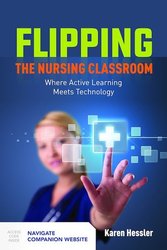 Welcome back guest blogger, Dr. Karen Hessler, PhD, FNP-C, author of Flipping the Nursing Classroom: Where Interactive Learning Meets Technology.
The last blog of 2016 has arrived after a busy fall in Colorado. Flipping my class this past semester was a fantastic success, and prompts me to encourage all of you to keep up the great work to perfect your flipped pedagogy. My teaching is more meaningful and my evaluations are a nice reflection of student appreciation for my efforts to bring to the classroom a new and innovative teaching style. Although much of the research discusses student resistance to the flipped classroom (including my own!) I will have to say that once students experience the flipped classroom as it is meant to be delivered, they are extremely appreciative of its implementation. Students realize how much they've learned, and how much more they've learned within the flipped classroom than in the traditional lecture-based teaching structure they experience in other classes. In particular, my students appreciate the application of content that the flipped classroom allows. Instead of just learning about patient care, they are able to test their knowledge base with case scenarios. A rich discussion of why one plan of care is preferred over another brings to students the experience level of a faculty member who has really "been there" and "done that". As faculty members with vast experience in the world of nursing, we bring a vicarious learning ability to the classroom. Students are not always able to critically think about what would be in a patient scenario. An experienced faculty member that can prompt students to think about the "what if" and "yes, but" issues can bring a more rounded and thorough thought process to each patient encounter. Although they are not experts once they are done with my flipped classroom, I do believe that they are at an advantage due to the stretched thinking the case-based flipped classroom allows.

So to close – I encourage each of you to keep on flipping, even when you are discouraged or feel like it is not working. As my text states – keep going and keep trying. We sometimes learn by trial and error. The only failure would be to give up and not revise your flipped classroom plan to make it better each semester. So instead of "out with the old and in with the new" – perhaps I could suggest "revise the old to create the new" flipped classroom to launch your teaching ability into 2017!

Happy Flipping New Year!!

Karen L. Hessler, PhD, FNP-C
Serving as an easy-to-read and conversational "how-to" guide for instructors, Flipping the Nursing Classroom: Where Active Learning Meets Technology draws on the author's extensive experience in addition to research that shows flipping the nursing classroom as an evidence-based teaching strategy. It opens by defining the flipped classroom and includes evidence that this technique improves student outcomes. Using both learning theory and cognitive load theory to demonstrate why the flipped classroom is an effective mode of learning, it also teaches nurse educators how to implement this technique and use it to evaluate student success. Learn more at our website.