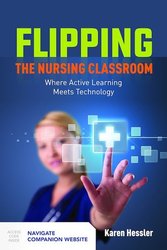 Read a new post from our guest blogger, Dr. Karen Hessler, PhD, FNP-C, author of Flipping the Nursing Classroom: Where Interactive Learning Meets Technology.
Happy Fall to everyone! I trust that nursing classrooms across the country and around the world are all abuzz with students and faculty working together to teach and learn the concepts and pearls of wisdom necessary to develop the next generation of nurses. As I think about the flipped classroom at its best and brightest, I wonder if we are considering the spacial aspect of our classrooms carefully enough.

It is fairly obvious that the flipped classroom is very different than the traditional lecture-based class. In order to augment student learning in the flipped classroom, nursing faculty must reconsider the physical spaces in which they teach. Student learning in the flipped classroom is often messy, noisy, and full of movement. These are not great descriptors for the traditional lecture style classroom structure with all desks and chairs focused religiously onto the power point lecture screen directly in front of them. With this structure, students can feverishly write every word of their lecturing instructor, paying special attention to each of 3 dozen slides as they are shown and discussed. But the flipped classroom thrives not on the attention of 1 lecturing professor. Instead, it thrives on students interacting with other students and their professors, asking important questions and answering those questions rather than being told what is important. This environment requires nursing faculty to break out of their lecture based classroom environment in favor of a more fluid space. The space must allow for students to form discussion groups, move around to different activities, and be comfortable in their own learning space.

I envision a room full of soft and comfortable furniture, clipboards to write down ideas, soft lighting and tons of resources both hard copy and electronic for students to access and work with. How different would our students look at their flipped classroom if we were able to provide this type of living room-type environment for them to learn in rather than a sterile lecture environment with the clock tick, tick, ticking on with each power point slide shown? I like to dream, maybe you do too. Think about how you can reinvent your flipped classroom space to augment student learning and comfort, then tell us all about your experiences. Flip On!

- Karen
Serving as an easy-to-read and conversational "how-to" guide for instructors, Flipping the Nursing Classroom: Where Active Learning Meets Technology draws on the author's extensive experience in addition to research that shows flipping the nursing classroom as an evidence-based teaching strategy. It opens by defining the flipped classroom and includes evidence that this technique improves student outcomes. Using both learning theory and cognitive load theory to demonstrate why the flipped classroom is an effective mode of learning, it also teaches nurse educators how to implement this technique and use it to evaluate student success. Learn more at our website.