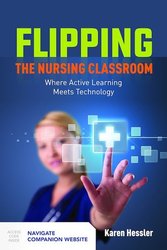 Please welcome our guest blogger, Dr. Karen Hessler, PhD, FNP-C, author of Flipping the Nursing Classroom: Where Interactive Learning Meets Technology, for a post on the highs and lows of flipped classrooms.
Summer is such a great time to take a few minutes to reflect on our teaching practices in the classroom and clinical settings. Even if you find yourself busy with publications, presentations at conferences, and teaching coursework during the summer, taking a moment to think about how we teach is a worthy endeavor. As I watched the fireworks display on the 4th of July with my family this year, it made me think of a parallel to my flipped classroom experiences. Some of the fireworks were beautiful, brilliant, and awe-inspiring, while others seemed to be…..well, duds.

Some of us who have worked with the flipped classroom can most likely relate to these same outcomes using the pedagogy. At times when we flip the classroom we get a beautiful and energetic outcome that makes us "ooo" and "ahhh". Other times you and your students might find yourselves thinking, "Well that was a dud!"

Experiential learning has been a key to the success of preparing nurses, both undergraduate and graduate alike, for the roles that they will soon be responsible for. Why then, should we as nurse educators not use experiential learning ourselves? Try, try, try again. It is often that 3rd or 4th time of flipping the content that you find the "Goldilocks" recipe to the best flipped classroom experience.

My advice to you as a fellow educator and flipped classroom pioneer? Step out and light that flipped classroom firework to see what the outcome is. If it is beautiful, rejoice! If it ends up being a dud, try it again with a few changes in the recipe. Most of all, have fun in your flipping experiences and know that even if it seems like a dud, your students have learned more than if you lectured to them for hours.

Happy summer and Happy Flipping!

- Karen
Serving as an easy-to-read and conversational "how-to" guide for instructors, Flipping the Nursing Classroom: Where Active Learning Meets Technology draws on the author's extensive experience in addition to research that shows flipping the nursing classroom as an evidence-based teaching strategy. It opens by defining the flipped classroom and includes evidence that this technique improves student outcomes. Using both learning theory and cognitive load theory to demonstrate why the flipped classroom is an effective mode of learning, it also teaches nurse educators how to implement this technique and use it to evaluate student success. Learn more at our website.