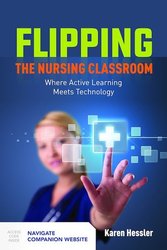 The flipped learning model is a hot topic in nursing education right now. Why is this? Research has shown that it can improve traditional teaching methods and promote active learning and participation in the classroom. That's why Flipping the Nursing Classroom: Where Active Learning Meets Technology by Karen Hessler is not only timely but also essential. In a recent review, Susan G. Wiers, DNP, from Michigan State University College of Nursing, for Doody's Review Service, writes that,
"This unique book is well written and provides a wealth of information to guide even novice nursing instructors interested in the innovative pedagogical model of the flipped classroom."
Serving as an easy-to-read and conversational "how-to" guide for instructors, Flipping the Nursing Classroom: Where Active Learning Meets Technology draws on the author's extensive experience in addition to research that shows flipping the nursing classroom as an evidence-based teaching strategy. It opens by defining the flipped classroom and includes evidence that this technique improves student outcomes. Using both learning theory and cognitive load theory to demonstrate why the flipped classroom is an effective mode of learning, it also teaches nurse educators how to implement this technique and use it to evaluate student success.
What else makes this text special?

Case exemplars
Video lectures narrated by the author
Tips for getting started
Detailed experiences of flipping the classroom
Interested in learning more? Preview a sample chapter or visit our website.