I've spent much of my time and energy over the past five years engaged in large scale undergraduate curriculum change efforts across two Canadian Universities. First as the Associate Dean for Undergraduate Nursing Programs at the University of Alberta, and currently as the Dean of Nursing at the University of Calgary. What I have observed and experienced is that the need for transformational and relational leadership is everywhere. As an academic leader, what I can accomplish is dependent on the quality of the relationships that I foster with colleagues, staff and students. Honesty, transparency, and building on strengths are key aspects of a relational leadership style.
In the process of curricular change, we engaged in stakeholder consultation (internal and external) to seek feedback about how to best prepare our graduates for future practice. One of the most prominent themes from these consultations was the need to prepare future nurses to lead change in healthcare. Wow, no small task – right? As we began to design a new curriculum and integrate new concepts, (such as healthcare innovation and transformational leadership) the need for faculty development became apparent. How could we possibly expect our faculty to do justice to teaching these concepts if they have never experienced them or been given the opportunity to learn about the concepts themselves?
What in the practice environment is so desperately in need of this transformation? Keep in mind that the practice environment that we are sending our nursing graduates to is complex, dynamic and imperfect and in some cases toxic! Not only do we need to equip nursing graduates with the knowledge, skills and attitudes to be future transformational and relational leaders, but we also need to be mindful that we're helping them navigate the transition from student to new graduate nurse. These future nurses will be working within the current realities of healthcare and we need to foster resilience!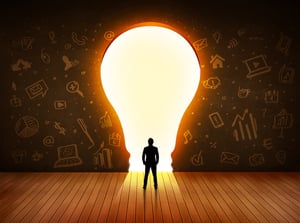 Research and reports from a range of professional nursing organizations over the past decade have indicated that up to 60% of new graduates leave their place of work within the first year, and many decide to leave the profession altogether* (Spence Laschinger, Wong & Grau 2012). Clearly, this is a problem! In order to transform a health system, we need to retain new nurses in sufficient number who have been properly prepared to lead through innovation and change.
This brings us full circle back to the need for transformational and relational leaders in nursing education that can thoughtfully engage all stakeholders in the process of curricular innovation. This includes administrators who value and model relational ways of leading, faculty who are willing and prepared to step up to the challenge of teaching new concepts in new ways and most importantly, nursing students who feel confident and supported today and are equipped with resilience they need to become the transformational leaders of tomorrow.

To learn more about leadership in healthcare, check out our new text publishing this fall, Leadership for Evidence-Based Innovation in Nursing and Health Professions, Second Edition.
Source:
Spence Laschinger, H. K., Wong, C.A., Grau, A.L. (2012). The influence of authentic leadership on newly
graduated nurses' experiences of workplace bullying, burnout and retention outcomes: A cross-sectional study. International Journal of Nursing Studies, 49(10), 1266-1276.