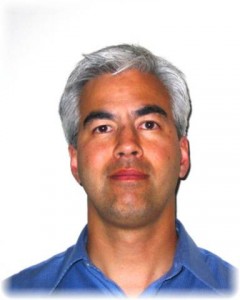 Dr. Joseph Esherick Monthly Blog – November 2011
Numerous studies have shown that ultrasound guidance lowers the rate of complications and increases the success rate for virtually every hospital procedure compared with traditional landmark-based techniques. This has proved to be the case for ultrasound-guided central lines, ultrasound-guided paracentesis, and ultrasound-guided lumbar punctures in obese patients. This essay will focus on ultrasound-guided thoracentesis which has a decreased rate of pneumothorax and need for tube thoracostomy compared with the blind approach.
Pleural effusions affect nearly 1.5 million people each year in the United States. Many of these people require thoracentesis for pleural fluid analysis to either determine the etiology of their pleural effusions or as a therapeutic procedure to relieve dyspnea and hypoxia. Examination of the pleural space with sonography is best carried out using a convex array 3.5- to 5 MHz probe.[1] Ideally, the patient is in the sitting position and sonography should identify the uppermost extent of the pleural effusion and the location of the diaphragm. The depth of insertion can also be approximated by using the depth markers on the ultrasound screen. At this point, a mark can be made on the posterior thorax just above the rib at the optimal site for thoracentesis. The thoracentesis can then be carried out in standard fashion with the patient in the same sitting position. Alternatively, the convex array probe can be placed in a sterile sheath and the thoracentesis can be performed using real-time ultrasound guidance. The complication rate is identical with either technique for ultrasound-guided thoracentesis...