This is the first in a two-part blog series from Tarascon Publishing Author, Matthew Dasco, MD, MSc.
Part 1:
The world's burden of disease and human resources for health are not well aligned. While sub-Saharan Africa has 24% of the world's disease burden, it only has 3% of the world's healthcare workers. On the other end, the Americas region has 10% of the world's disease burden but 37% of its health workers.
The Joint Learning Initiative (JLI) has calculated that the minimum number of health care workers (doctors, nurses, and midwives) in a population to achieve and 80% coverage rate of skilled birth attendance and measles vaccination is 2.5 per 1000 – countries with fewer than this number run a very high risk of not achieving the health-related millennium development goals (JLI, 2004). 57 countries in the world have been designated by the World Health Organization (WHO) as in this state of "crisis" with regards to human resources for health, which translates to a global shortage of roughly 2.4 million health workers (WHO, 2006).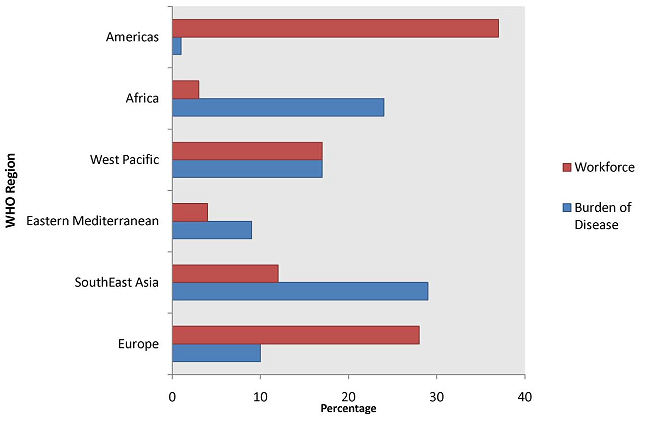 (Chart from Kerry, 2011)
My first contact with the disparity between disease burden and human resources for health occurred while I was attending on the internal medicine wards at Princess Marina Hospital (PMH) in Gaborone, Botswana.
PMH is the largest of two public sector tertiary care referral hospitals in the country. In our department, there were six general medicine teams, an oncology service, and a nephrology service – each was assigned an internal medicine specialist. The department consisted of two Cubans (a pulmonologist and a nephrologist), a Chinese generalist, an Indian generalist, a German oncologist, an Egyptian cardiologist, and a smattering of Americans working through university partnerships. I found it odd that there were only two Batswana internal medicine specialists working there – they were among a very small number that had received specialty training abroad and returned to their home country to practice.
There are very few reports published about the composition of the health sector in Botswana but it is clear that retention of local doctors has been an ongoing challenge for the country – a 2007 study estimated that only 10% of the 750 doctors working in Botswana were nationals. The relative dearth of medical specialists is hardly surprising. Until 2009, the country did not have a medical school. Postgraduate residency training only just started in 2010. Before then, medical education was outsourced. If you were from Botswana and wanted to become a doctor you had to study abroad – most went to South Africa, Ireland, the United Kingdom, the Carribean, and Australia. Some were even studying in countries that did not use English as a first language – I met students that were studying medicine in Russia, Cuba, and the Czech Republic. To embark upon the quest toward a career in medicine meant leaving one's home, family, and social network. Interestingly, the Government of Botswana paid for each and every medical student to study abroad – this included tuition, travel, housing, and a living allowance. Very few countries in the world would have been able to shoulder this expense.
But Botswana is different. It is a country that has been blessed with peace, relative political stability, and valuable natural resources. Diamond revenues account for roughly 1/3 of the country's GDP, which was estimated at $16,300 per capita in 2011, classifying it as an upper-middle income country. Botswana's disease burden is complicated – according to UNAIDS, the prevalence of HIV in 2006 was about 24%, though national estimates document a prevalence of closer to 17% (CSO, 2008). For about the past decade a robust national HIV program has enrolled over 90% of individuals requiring antiretrovirals into treatment. As the HIV population lives longer, the burden of diseases such as hypertension, type II diabetes, cancer, and metabolic syndrome are on the rise. It is under this backdrop that an already stretched health care workforce is having to cope with both communicable and non-communicable diseases.
Despite the fact that the government had paid for their education, as I traveled around the country, I met strikingly few Batswana doctors working in district hospitals and clinics. Most were in the private sector or in subspecialty clinics. The majority of public sector medical doctors were expatriate Africans from DR Congo, Uganda, Kenya, Malawi, and Zimbabwe. Where are the Batswana? Why had they not returned? Why were so few working in the public sector?
______________________________________________________________
Matthew Dacso, MD, MSc is a general internist from Houston, Texas. He studied music at McGill University, international development at the University of London School of Oriental and African Studies, and medicine at the University of Texas Medical Branch in Galveston before completing residency at Brown University in Providence, Rhode Island. He has worked in health care in Argentina, Peru, the Dominican Republic, Mexico, and Botswana. His current research focuses on non-communicable diseases in HIV, traditional medicine, and global health medical education. He continues his work in community health and development as an HIV outreach specialist for the Botswana-UPenn Partnership and is an active faculty member of the Department of Internal Medicine at the University of Botswana, both based in Gaborone, Botswana. In 2010, he co-edited the Tarascon Global Health Pocketbook.