By James H. O'Keefe, MD FACC, author of The Complete Guide to ECGs: A Comprehensive Study Guide to Improve ECG Interpretation Skills, Fifth Edition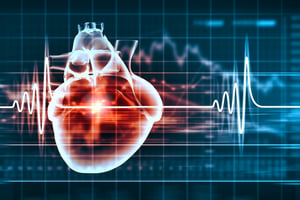 The most common arrhythmia seen in COVID-19 patients is sinus tachycardia, but other pathologic arrhythmias such as atrial flutter and/or fibrillation, ventricular tachycardia, and bradyarrhythmia can occur especially among critically ill patients. However, the vast majority of patients presenting with COVID-19 will not have symptoms or signs of arrhythmias or conduction system disease.
Palpitations were reported as one of the presenting symptoms of COVID-19 in 7% of patients in one Chinese study. A Wuhan study of COVID-19 patients hospitalized with pneumonia reported that arrhythmias were seen in 17% of the overall group and in 44% of patients in the intensive care unit. Acutely ill COVID-19 patients are often tachycardic in conjunction with other systemic symptoms such as fever, dyspnea and pain. Patients with acute COVID-19 infections can develop acute myocarditis or acute coronary syndrome.
COVID-19 patients are often being treated with QT-prolonging drugs including hydroxycholoroquine, chloroquine, and azithromycin, which can predispose to polymorphic ventricular tachycardia (VT) and torsades de pointes. Patients being treated with QT-prolonging drugs should have ECGs performed regularly to monitor the QT interval.
The mean QTc in healthy adults is 420±20 msec; the 99th percentile QTc = 470 msec in males and 480 milliseconds in females. A QTc longer than 500 msec is considered highly abnormal for both males and females.
A patient with torsades de pointes should be treated immediately with IV magnesium. In addition, any metabolic and/or electrolyte derangements should be corrected. Also. all QT-prolonging medications should be stopped if torsades de pointes occurs.
In the absence of active cardiac arrhythmias, or other cardiac complications, continuous ECG monitoring is not mandatory for suspected COVID-19 infection.
---
About the Book
Fully updated to keep pace with the changes to the American Board of Internal Medicine (ABIM) Exam, the fifth edition of The Complete Guide to ECGs provides a unique and practical way for physicians in training, fellows, residents, and other medical professionals to improve their ECG interpretation skills. The highly interactive format and comprehensive scope of information are also ideally suited for physicians preparing for the American Board of Internal Medicine Cardiovascular Disease or Internal Medicine Board Exams, the American College of Cardiology ECG proficiency test, and other exams requiring ECG interpretation.
About the Author

James H. O'Keefe, Jr., M.D., is Director of the Charles and Barbara Duboc Cardio Health and Wellness Center, Co-director of the Haverty CardioMetabolic Center of Excellence at the Saint Luke's of Kansas City, Mid America Heart Institute and Professor of Medicine at the University of Missouri-Kansas City in Kansas City, MO. His postgraduate training included a cardiology fellowship and internal medicine residency at Mayo Clinic in Rochester, Minnesota. Dr. O'Keefe has contributed more than 400 articles to the medical literature, and he has authored numerous books on cardiovascular medicine. He lectures nationally and internationally on diet, exercise, supplements, and drug therapy for cardiovascular health, well-being, and longevity. He has co-authored, with his wife Joan, the best-selling consumer health books Let Me Tell You a Story and The Forever Young Diet and Lifestyle. Dr. O'Keefe is actively involved in patient care, research, and education. He is regularly listed among the Top Doctors and has been recognized as one of the Most Influential Doctors in America. He has done multiple TEDx Talks that have been viewed millions of times. Dr. O'Keefe is also editor-in-chief of "From the Heart" newsletter, which goes out to 250,000 homes and offices twice yearly.