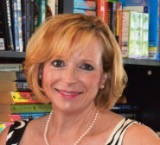 If you teach in a fully online or a hybrid class, you know the Discussion Board, Forum, or Threads, whatever name they go by, are considered the "heart" of the online classroom. At least that's what these vehicles for asynchronous discussions are supposed to be. When used properly, online discussions can be the epicenter of intellectual challenges and interactions between the students and the instructor. Participants can used their higher order thinking skills (HOTS), actively engage in the material, and be pushed to the next level of their career development. Or, in less exhilarating instances, students parrot back material from the text (sometimes not bothering to put in quotes), respond to the minimal number of other students, per the syllabus, and check off another item on their to do list to get through the course.
If we want to engage students and have them apply the course materials to real world issues, we need to use real world material. In a previous post on wicked problems in healthcare, I noted these complex problems are messy, require input from multiple disciplines, and rarely have one correct answer. So, when we post discussion questions and receive a numbered list of answers straight from the textbook, even when quoted and the page numbers are cited, the problem lies not with the course rubrics and grading, but with the kinds of questions we are asking.
Here are some suggestions for ways to make your Discussion Boards more useful, engaging, interactive, and applicable to the real world
Use a case study: A good case study does not have to be twenty pages long. In our new book, Cases in Health Care Management, Nancy, Dale, and I made a deliberate effort to keep the cases short. Unless you want to, you don't have to retype them into your Discussion Board. You can refer the students to the particular case and the questions included in the case and tell them to respond to at least two of the questions in their initial post using current (<5 years old), peer-reviewed, scholarly articles for citations and references.
Have students provide cases or scenarios: As noted last month, it is one thing to analyze a case study, but to create a short story that embodies key issues in health care management is a greater challenge. If you want your students to stretch and grow even more, require them to provide an original case study to be used in a Discussion Board. I would make this a graded assignment. This is where students can demonstrate their writing competencies, and you can see if they need help. You can post the cases and have the students vote on which ones they think would be most interesting to discuss. This way you have engaged the students in creating the cases and in determining which ones will be used. An added bonus is they have a voice in the class material to be used.
Have students share "health care management factoids" with the class: When I taught freshman health, I required students to bring in a "health factoid" each week and share it with the class. Students culled the newspaper (yes, this is ancient history!) and read them aloud. They were not graded on this, but it was required. Now, you can have students search the Internet for cases in the news and post the link in a "Water Cooler" area that stays up throughout the entire course. Students should indicate why they thought the news story was germane to the course, and ask for other students' responses. These cases ripped from the headline news can be excellent tools for students to connect their classroom knowledge with real world events.
Bring in an expert: Invite a health care executive to use one of the students' case studies or have the expert provide a question or scenario for a particular week's topic. Provide the executive access to the class as a guest lecturer and have the executive respond (along with you) to the students' posts. The executive may very well respond with, "That's a great textbook answer, but here's how it really goes" much like Rodney Dangerfield's first economics class.
Teamwork in the Discussion Board: I hear the shrieking now. Not teamwork, anything but teamwork! Using the case study template I provided last month (yes, it's here this time, too) assign the students to work together in teams to address each section of the case study analysis. Do not allow the students to self-select. See my reasoning in last May's post on teamwork in online settings. I would give them two weeks to get organized and post. I would also create rooms for group work, so you can monitor their meetings. You never know what you might see. Here's an example of one of meeting that went south fast.
And finally,
Once again, here is the promised case study template for you to use with your students!
Background Statement What is going on in this case as it relates to the identified major problem? What are (only) the key points the reader needs to know in order to understand how you will "solve" the case? Summarize the scenario in your own words—do not simply regurgitate the case. Briefly describe the organization, setting, situation, who is involved, who decides what, etc.
Major Problems and Secondary Issues Specifically identify the major and secondary problems. What are the real issues? What are the differences? Can secondary issues become major problems? Present analysis of the causes and effects. Fully explain your reasoning.
Your Role In a sentence or short paragraph, declare from which role you will address the major problem, whether you are a senior manager, departmental manager or an outside consultant called in to advise. Regardless of your choice, you must justify in writing why you chose that role. What are the advantages and disadvantages of your selected role? Be specific.
Organizational Strengths and Weaknesses Identify the strengths and weaknesses that exist in relation to the major problem. Again, your focus here should be in describing what the organization is capable of doing (and not capable of doing) with respect to addressing the major problem. Thus, the identified strengths and weaknesses should include those at the managerial level of the problem. For example, if you have chosen to address the problem from the departmental perspective and the department is understaffed, that is a weakness worthy of mentioning. Be sure to remember to include any strengths/weaknesses that may be related to diversity issues.
Alternatives and Recommended Solution Describe the two to three alternative solutions you came up with. What feasible strategies would you recommend? What are the pros and cons? State what should be done—why, how, and by whom. Be specific.
Evaluation How will you know when you've gotten there? There must be measurable goals put in place with the recommendations. Money is easiest to measure; what else can be measured? What evaluation plan would you put in place to assess whether you are reaching your goals?
Now, how do you plan to improve your Discussion Boards?
Sharon B. Buchbinder, RN, PhD
Sharon Buchbinder is Professor and Program Coordinator for the MS in Healthcare Management at Stevenson University in the Graduate and Professional School and former chair of the Association of University Programs in Health Administration (AUPHA). She is also the author of three books from Jones and Bartlett: Introduction to Health Care Management (with Nancy H. Shanks), Career Opportunities in Health Care Management (with Jon Thompson) and Cases in Health Care Management (with Nancy H. Shanks and Dale Buchbinder.)
Here are some additional resources if you are interested in this topic.
Buchbinder, Sharon B. (2009, September 17). Can we tame the wicked problems in health care? http://blogs.jblearning.com/health/2009/09/09/can-we-tame-wicked- problems-in-health-care/
Buchbinder, Sharon B. (2012, July 2). Writing Competencies: Whose Responsibility Is It? Available at http://blogs.jblearning.com/health/2012/07/02/writing-competencies-whose-responsibility-is-it/
Buchbinder, Sharon B. (2012, May 7). Teamwork in online courses: How can we encourage effective participation? http://blogs.jblearning.com/health/2012/05/07/teamwork-in-online-courses-how-can-we-encourage-effective-participation/
Conklin, J. (2008). Wicked problems and social complexity. http://www.cognexus.org/wpf/wickedproblems.pdf