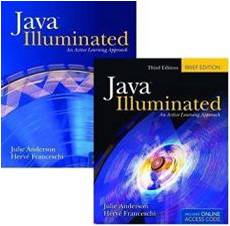 Provide your introductory java programming students an "Active Learning" experience with Turings Craft Custom CodeLab®
Jones & Bartlett Learning is excited to offer Custom CodeLab with the recently published Third Editions of the best-selling text Java Illuminated. Furthermore, access to this outstanding learning tool is free with new copies of the text!
CodeLab is a web-based interactive programming exercise service that has been customized to accompany each text. It provides over 300 short exercises, each focused on a particular programming idea or language construct. The student types in code and the system immediately judges its correctness, offering hints when the submission is incorrect. Through this process, the student gains mastery over the semantics, syntax and common usage of the language elements.