According to the Bureau of Labor Statistics, the 10-year job outlook for all 12 major Computer Science and Information Technology Occupations will increase by 13-37%, most of which is much faster than the national average. Yet, while the field is growing and overall enrollment is up at most major universities, only about 18% of computer science and engineering majors are women. Why is that?
One answer is the trend of associating STEM (Science, Technology, Engineering, Mathematics) with the word "geek". For example, CNN recently published a story entitled, "5 Reasons Technology World Needs More Geek Girls". Another instance is a mobile GeekBus that travels to schools to increase STEM education in children and women. This image continues through a recent "We the Geeks" White House initiative designed to highlight the future of STEM through Google+ Hangouts. However, this approach may actually be deterring many women from the technology field.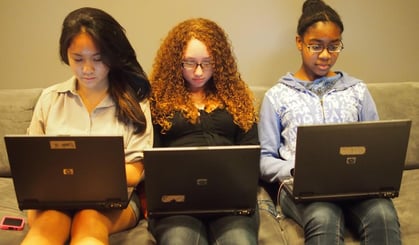 In a recent Washington Post article, Tricia Barry, director of the Women in Engineering Program at The University of Texas at Austin, argues that the geek language needs to be eliminated in order to include and engage girls in the STEM fields.
"Using a socially awkward loner as a symbol for STEM isn't an effective method for attracting girls to these fields. In fact, it's counterproductive. To fill these jobs, we need young women to discover how their own skills and passions apply to STEM. But we risk isolating many by suggesting that these careers are only for people who embrace their inner geek. We should be showing young women that they can love science and math while also being fun and social people with broad interests."
Many organizations, Barry points out, are reaching out to girls to attract them to STEM in a positive way. Million Women Mentors is an engagement campaign and national call to action to recruit women to mentor girls and young women in STEM. MentorNet and FabFems both strive to connect girls with inspiring women who can share their job experiences and lives outside their STEM careers. These, along with other groups, recognize the importance of diverse and inspiring STEM role models to engage girls in these fields by creating a welcoming environment.
Jones & Bartlett Learning encourages women of all ages to study and succeed at Computer Science by offering a wide selection of texts that improve learning outcomes and provide career readiness. For more information or to view our Computer Science texts, visit jblearning.com/computing.