In May 2009, President Barack Obama said that "America's economic prosperity in the 21st century will depend on cybersecurity." In fact, the U.S. Bureau of Labor Statistics reports that by 2018, the need for information security professionals is expected to grow by nearly 30 percent. To meet this demand, academic institutions throughout the country are offering new or expanded degree and certificate programs within this rapidly growing field.
The Information Systems & Security Assurance series (ISSA) from Jones & Bartlett Learning is the first comprehensive and interactive curriculum that covers the essential topics needed to support certification or degree programs within IT Security, Cybersecurity, Information Assurance and Information Systems Security. Developed by certified IT professionals, it offers 440 hours of robust courseware compatible with any learning management system and innovative applied labs delivered in a first-of-its kind "cloud" computing environment. The cloud learning experience offers a fully immersive mock IT infrastructure, enabling hands-on experi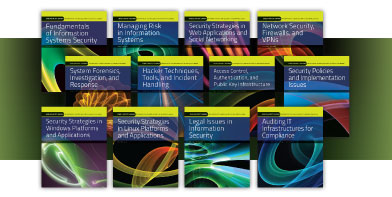 ential learning where students can learn in a trial-and-error format with no risk, gaining invaluable workplace-related skills essential to maintaining the security and confidentiality of their employers' data assets.
Recently, the Jones & Bartlett Learning ISSA series became one of the few curriculum developers to receive recognition by the Information Assurance Courseware Evaluation (IACE) Program at the National Security Agency (NSA).
"We work tirelessly to develop the highest quality content—both print and online—so this
acknowledgement is extremely rewarding. More importantly, it means educators have a high-quality, CNSS-approved, ISSA coursework offering to train and prepare information systems security professionals," said Christopher Will, Senior Vice President of Custom and Curriculum Solutions at Jones & Bartlett Learning. "The demand for qualified professionals is fast-growing, and this curriculum will help educators ensure their program graduates are work-ready to fill the jobs that are available."
IACE approval requires that the courseware meet all of the elements of a Committee on National Security Systems (CNSS) Training Standard. The ISSA series curriculum has been validated for two of these standards:
Information Systems Security (INFOSEC) Professionals, NSTISSI No. 4011
System Administrators, CNSSI No. 4013 Advanced Level
To learn more about the ISSA series, visit our website where you can request a demo or contact your Account Specialist.