The Georgia Institute of Technology College of Computing recently announced a new partnership with Udacity, a for-profit provider of MOOC (Massive Open Online Course), to offer a three year Online Master's degree in Computer Science (OMS CS). The partnership also includes a deal with with AT&T, who will contribute $2 million and provide connectivity, tools, and services to students.
"The OMS CS will set a new agenda for higher education—real, rigorous and marketable graduate education in computer science will now be available to tens, even hundreds of thousands of additional students around the world," said Zvi Galil, John P. Imlay Jr. Dean of Computing at Georgia Tech. "Computing is the catalytic field of the 21st century. Now we could potentially double the number of trained computing professionals worldwide in as little as a decade."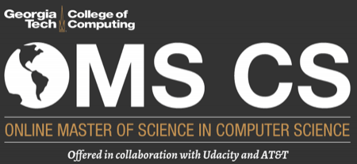 Rafael L. Bras, provost and executive vice president for academic affairs at Georgia Tech, continued that "Georgia Tech's vision is to define the technological research university of the 21st century. We will explore technologies and instructional approaches that will improve our role as a leading provider of the best and most effective education in the state of Georgia, the nation and the world."
Georgia Tech has been involved in online education for over 30 years, and has become a national leader in massive open online courses over the past year. The university is opening enrollment for the program to students in fall 2014. Initial enrollment will be limited to a few hundred students, but is expected to gradually expand over the next few years. While course materials will be free, there will be a tuition charge if students want the credit-bearing Master's degree certification. However, given the new report that states recent college graduates average about $35,200 in debt when they graduate, this new program could mean significant savings with total tuition costs under $7,000.
"We are excited to team with Georgia Tech, whose College of Computing offers CS degrees of the very highest caliber. AT&T is a champion for innovation in education, and we are grateful for its vision in supporting this endeavor," said Udacity founder Sebastian Thrun. "Udacity has been at the forefront of innovation in online pedagogy. We hope our work with Georgia Tech and AT&T will induce transformational change in higher education."
Found out more about OMS CS at www.omscs.gatech.edu. To learn more about Computer Science resources from Jones & Bartlett Learning, visit www.jblearning.com/computing or contact your Account Specialist.