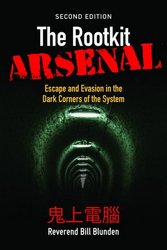 "Author Bill Blunden does a good job placing his technical work in a bigger overall framework", said reviewer Richard Bejtlich on his blog, TaoSecurity.
Richard, the Chief Security Officer with information security company, Mandiant, went on to say,
Firtst, [The Rootkit Arsenal, Second Edition] appears current, with references to developments over the last few years. Second, it is well-sourced, with lots of footnotes. For me, that is a sign that the author cares about attribution and scholarship.
About the book
While forensic analysis has proven to be a valuable investigative tool in the field of computer security, utilizing anti-forensic technology makes it possible to maintain a covert operational foothold for extended periods, even in a high-security environment. Adopting an approach that favors full disclosure, the updated Second Edition of The Rootkit Arsenal presents the most accessible, timely, and complete coverage of forensic countermeasures. This book covers more topics, in greater depth, than any other currently available. In doing so the author forges through the murky back alleys of the Internet, shedding light on material that has traditionally been poorly documented, partially documented, or intentionally undocumented.
Learn more about The Rootkit Arsenal: Escape and Evasion in the Dark Corners of the System, Second Edition
Read the full review on TaoSecurity.blogspot.com.