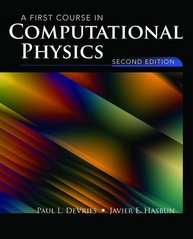 A First Course in Computational Physics, Second Edition, by Paul L. DeVries and Javier E. Hasbun, was recently reviewed in the IEEE Computer Society bi-monthly magazine, Computing in Science & Engineering.
Reviewer Eric Ayars is an associate professor of physics at California State University, Chico, and had this to say about the text's readability:
By far, the book's best feature is the delightfully clear and understandable explanations of the more complicated aspects of computational physics. The authors' explanation of the fast Fourier transform (FFT), for example, quickly and easily explains its function, why it requires that the number of samples be a power of two, and why it's so much faster than the discrete Fourier transform. Although I've been teaching computational physics for years, their explanation is so clear that it made me realize that I hadn't yet fully grasped the technique's elegance.
Professor Ayars commented about the fact that the text is designed around the use of Matlab®, however, he says,
In my opinion, the text's biggest weakness is that it's written around Matlab, which is an expensive and proprietary software package. However, the authors rarely do anything that requires Matlab, so it's possible to work around this issue...The book's best qualities don't depend on the Matlab examples, and libraries exist for other languages that allow the same functionality as Matlab. It's an excellent book, and well deserving of serious consideration for any computational physics course.
Read the full article by visiting Jones & Bartlett Learning.